Swimwear to Minimize Bust
By Kevin Elliott
Some women might like flaunting their girls but for some it could really be problematic. Women with a heavier bust area tend to feel uncomfortable while wearing swimwear, and for most of them bikinis or any other swimwear option that puts the upper body in focus is a strict no-no.
So, should you quit looking for hot swimwear just because you are well-endowed? Must you really ditch the idea of wearing a hot bikini just to avoid driving attention to your breasts? Absolutely not!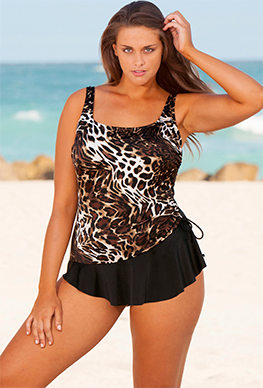 Listen, Understand, and Believe that curves are hot and yes just because you are a big girl is no reason to shy away from clothes that you want to wear. All you need to do is dress smart.
If you want to make your breasts look smaller or lesser than your natural ones, here are some tips to consider while shopping for swimwear to minimize bust.
Bikinis instantly draw attention to your bust area, if you do want to wear one; look for a bandeau top. Some bandeau bikini tops come with color block detailing, which gives the illusion of smaller breasts. One of the easiest and widely adopted means of minimizing well-endowed upper body is by opting for full coverage. Full coverage gives more of a flatter look and also helps to tuck in the extra flesh at the sides.
This our partner's swimsuitsforall has a great selection of swimsuits that provides ample coverage and the color blocking effect around the waist creates the illusion of a slimmer waist; and an overall hourglass shape.
Apart from color blocking, another option is to go for certain prints and stripes that makes you look leaner. Vertical stripes make you look slimmer, so does fine floral prints. The idea here is to not go for something that either has ruffles or large overbearing prints around the bust area, because naturally it would make your upper body the centre of the attention and would rather enhance than minimize.
Longitude Plus Size Surplice Swimsuit have a pretty black and white print and can be easily teamed up with shorts and briefs. Black definitely is one of the most preferred colors of curvaceous girls since the color has slimming effects. But don't just opt for an all-black swimwear; go for a burst of color that's what summer is all about.
Check out Beach Belle Floral Tankini; it is fun and vibrant and the print is such that it creates an overall balanced look. This is strongly recommended for apple shaped body and even for pear shaped. If you want to further accentuate your waist, take a scarf and tie it around your waist like a belt.
What you completely must steer clear of are halters and sweetheart necklines, these instantly accentuates and make your breasts look bigger and heavier. So that's a complete no.
Go for swimwear options that come with built in underwire support or molded cups for that added benefit. Avoids pads though, since it only makes your breasts look fuller; if at all you do want to go for pads opt for soft cotton padded swimwear. So why not browse through our partner's swimsuitsforall website to see their full selection of Designer Swimwear to Minimize your Bust swimwear. And remember all swimsuits and merchants shown on their site ships to Canada.