Bust Enhancing Swimwear, Not Just For The Skinny Chicks
By Kevin Elliott
The common misconception that seems to be doing the round is that bust enhancing swimwear options are strictly for the lean girls. While it is true that those not well-endowed do need a little help in the bust department, it is absolutely not true that curvaceous girls shouldn't invest in one.
Why Bust Enhancing Swimwear?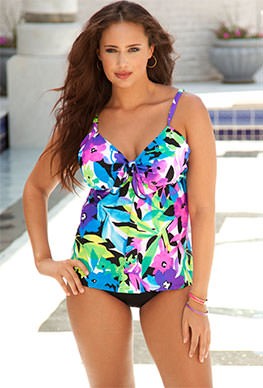 First off, every woman should be proud of their girlies. Physically, this is really what sets us apart. Bust enhancing swimwear brings out your curves well and give your upper body a well-defined look, which creates an overall proportionate look.
Bust enhancing swimwear options also provide ample support, which is something that women with heavier upper bodies desperately need. Proper support and accentuation of the curves is the sign of a flattering swimwear, so always look for one that has these two qualities apart from any other that you personally might be interested in.
Types of Bust Enhancing Swimwear
Plunging neckline instantly adds an emphasis on the bust area by diverting the focus to your girls and in a non-trashy way. Go for ones that have soft molded bra cups attached that offers maximum support and acts as a semi push-up bra.
The plunging neckline is best suited for pear body shaped as it enhances the bust area and creates an hourglass figure. A good option to choose is V-Neck swimdress that has a plunging neckline and molded cups. Plus the print is really in vogue now.
Like plunging neckline sweetheart neckline is ideal for both plus sized women and skinny women. This type of neckline balances out the look well and gives the appearance of a well-rounded bust area and for the big girls it also provides ample coverage. Avoid swimwear that features sweetheart neckline without straps as these will not provide optimum support and even for skinny girls this would tend to flatten the breasts rather than enhancing them.
Look for a swimdress or tankini top with a sweetheart neckline and empire waist. A well-fitting waist area with tummy trimmer makes you automatically look toned and in shape. Check out a Bandeau Tankini Top that can easily be teamed up with thongs, shorts, and even briefs.
Have you ever noticed how every well-endowed actress have rocked the halter neck whether it is Marilyn Monroe in the famous halter dress or Kim Krdashian in bikini. Halter neck has the property to lift up the bust area and make them look prominent. As a bust enhancer, halter necks along with soft pads or demi cups is perfect to accentuates the curves of the breasts perfectly while giving it a perkier and firmer look.
Always remember ladies, it is about how carry your swimwear that matters. Just be confident, chin up and go turn some heads! So why not browse through our partner's website to see their full selection of Designer Bust Enhancing Swimwear.
Shop Bust Enhancing Swimwear at Bare Necessities