Swimwear For Long Torso
By Kevin Elliott
It really is an individual choice but while some people love to flaunt their long torsos, others want to avoid drawing attention to this prominent area of the body. Athletic body type is generally characterized by a long torso and an overall proportionate body.
Picking the perfect swimwear for this body shape is extremely easy if you keep a few main considerations in mind. First off you need to decide whether you want to flaunt your torso or go for creating visual curves..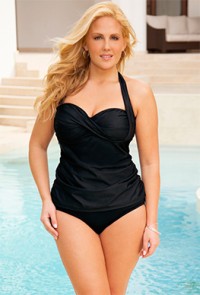 For those who are more than willing to go midriff-baring, the best option is of course a
bikini
. But since your body type is more athletic and lacking curves, try creating the illusion of curves by option for supportive padded bikini tops, and boy shorts or brief that have detailing at the side or are wider at the hips. Given that your already have a longer torso and flatter belly- something that most women would absolutely kill for- creating curves would be easier and would give you an overall hourglass shape.
Another way to accentuate your waist without showing any skin is by choosing a well-fitting one piece that again must have molded cups with padding on top and are flared at the bottom.
Another way to add volume to your bust area is by looking for swimdresses that have detailing around this area. Frills, lace, ruched, front bow, crimps, and even certain prints make your breasts look fuller and bigger thus creating the curve effect. Check out Longitude Plus Size Tie Front Swimdress at that instantly adds volume to your upper body creating curves at the right places. Or try Longitude Mesh Tier Swimsuit with frills around the bust area. Both of these swimsuit styles can be found at swimsuitsforall.
You can also add on chunky neckpieces and scarves to draw attention.
Besides trying these types of swimwear to bring out the positive side of having a long torso, there are certain smart swimwear options that will help minimize the length of the torso creating an overall proportionate and curvy look.
High-waisted briefs is a complete must-have in your wardrobe, these give the illusion of a smaller torso by providing adequate amounts of coverage. Team these up with a floral top and you are good to go
What you should avoid is swimdress with built in tummy trimmer as it would make your waist look all the more leaner and your torso longer. Go for swimdress that has a fitting bodice especially around the bust area and a flared bottom. The flared part of the swimwear would blend in the waist and hips and make it appear less prominent. Longitude Plus Size Empire Lingerie Swimwear from swimsuitsforall is the kind of swimwear that you should pick for long torso.
Additionally, you can wear high-waisted shortini and boy shorts too but make sure it is rather loose than too tight fitting in order to create the illusion of broader hips. So why not browse through our partner's swimsuitsforall website to see their full selection of Designer long torso swimwear. And remember all swimsuits and merchants shown on their site ships to Canada.